AdvaNum Milling CAM
AdvaNum Milling CAM is milling CAD/CAM software that allows rapid creation of CNC programs from part drawings. With this product you can create new or import existing part drawings, and convert them into NC programs in just a few simple steps.

It's easy to create part drawings with AdvaNum. As with any other CAD you can define lines, arcs, circles, build chamfer and fillets and use different layers and line types.
In addition, AdvaNum provides you with many CNC and CAM oriented features including support for various kinds of spline curves and numerous geometrical transformations that can be performed on entities or entire contours such as rotation, scaling, offsetting, etc.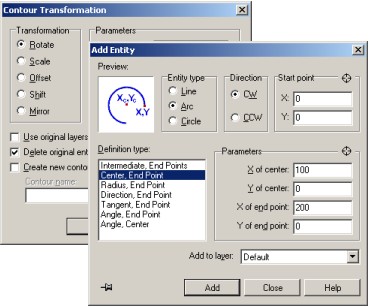 Basing on part drawing geometry, create contours that will define tool path trajectory. You can define contours with multiple passes at different levels by Z-axis, choose from four types of automatically generated approach/departure trajectories or define it manually. You can specify the set of technological commands for each element of the contour.
And AdvaNum will help you choose optimal cutting conditions for every contour basing on information about your machine, workpiece material and cutting tool you are using. Tool database is seamlessly integrated into the system allowing you to select and manage your tools on the fly.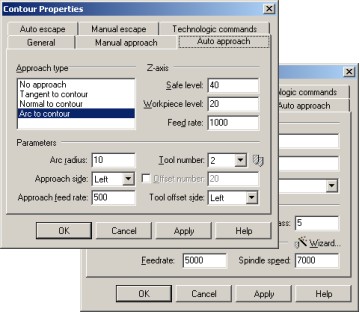 Create pockets basing on contours you have defined to remove a workpiece material within specified boundaries.
Pockets can have an arbitrary shape and include any number of islands. Multiple parameters allow you to describe pocket machining process in detailed and flexible way.
As with contours you can use Cutting Wizard to choose optimal machining parameters.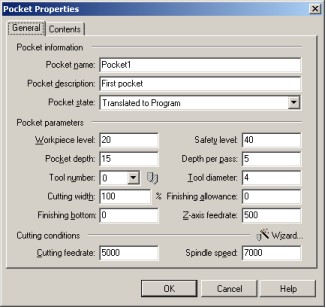 Through the use of procedures you can utilize a vast majority of macro-programs available in AdvaNum CNC Macro Library and written in Fanuc compatible language for NC programs that are not compatible with Fanuc CNC systems. There are procedures for different types of milling, facing, slotting and geometrical calculations.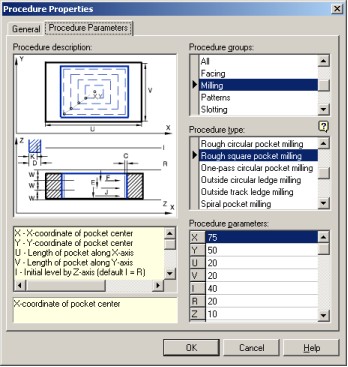 Organize contours, pockets and procedures all known as tasks into the Task List. You can translate all or only selected tasks into NC programs at any time. You can also modify created NC programs by simply changing the task properties and their order in the Task List.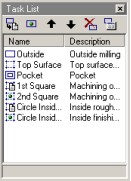 Customize the output language of AdvaNum to support virtually any CNC systems using graphical and intuitive post-processor editing utility. Information specified here is also used to populate Language Wizard, which is convenient visual way of editing NC programs.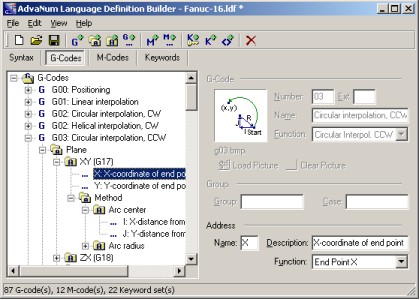 Use comprehensive program editor
AdvaNum NC Verification comes with a comprehensive CNC program editor, which offers you many standard and specialized editing features. Along with many text editing and search functions you can automatically add and remove block numbers, edit your programs in visual manner using Language Wizard and optimize program cutting conditions (feed rate/spindle speed ratio) with Cutting Wizard. Click here for more information about Program Editor features.
Product Features at a Glance
Create new drawings using various entity definition methods, splines, chamfers, fillets, and numerous geometrical transformations.
Import existing drawings in DXF format.
Define contours with manual and four types of automatically generated tool approach and departure trajectories.
Define pockets with automatic island avoidance support.
Utilize as many as 35 language independent procedures for different types of parameterized machining such as milling, facing and slotting.
Enter arbitrary program text using code blocks.
Arrange defined contours, pockets, procedures and code blocks (known as tasks) into Task List and translate them into NC program all in once.
Modify your program simply by changing order of tasks and tasks properties in the Task List.
Use a comprehensive CNC program editor.
Customize the program output format by using graphical Language Definition Builder to support virtually all CNC machines.
---